This referral does not require charity care.
Ophtho CMs: Yoni Goldstein and Monica Kim
Ophtho TSs: Davis Zhou (Chief), Nitin Chopra, Bonnie Sklar, Yvonne Okaka, and Irene Lee
Senior Clinician
If your patient complains of poor vision:
For distance vision issues
It is useful to use a pinhole occluder to differentiate refractive errors from other causes of blurry vision. A pinhole occluder is in Main Clinic, in the red Diabetes Supply Box kept by the CMs at the front desk. It is in a manila envelope.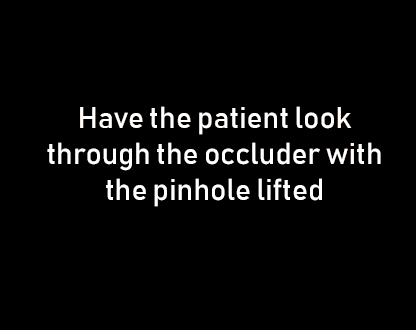 To use it, have the patient hold it so the big hole is over the eye being tested, and then have them focus on the Snellen chart. Lower the pinhole shield so it is in front of their eye, and finally measure their acuity.
For reading / near vision issues
Presbyopia is the most common cause of near vision issues in the elderly. Main Clinic has reading glasses that can be dispensed to patients, free of charge. If you think the patient could have presbyopia, please follow the reading glasses algorithm and see if these resolve the issue.
If patient is unable to read 20/20 with the reading glasses in main clinic, refer to EHHOPhtho using the form below.
Finally, fill out this Google Form with the patient.
Teaching Senior
Check the EHHOPhtho tab of the Ancillary Clinic Referrals spreadsheet to see what the SC submitted.
After clinic, the EHHOPhtho team will evaluate referrals and schedule patients for appointments.
Access to Care Team
No need for ACT involvement prior to EHHOPhtho visits.
Cost
No additional cost to EHHOP patients.
Wait Time
Six patients can be seen each month. The average wait time is 4-6 months.
Location
Eighth floor of CAM. Take the west side elevators.